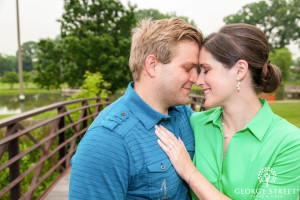 Picking up from where I left off last time, there's a lot to talk about. Jim and/or I met with my makeup artist, my hair stylist, the photographer, our presider, the event coordinator for Pinstripes, and our invitations. It has been quite a hectic week or two, but I'm trying to take the time to take care of myself and go on dates with Jim to keep my perspective. It isn't easy, since errands nag at me almost constantly, but I'm trying. So, without further ado, here are some more details for those of you who want more than the TLDR version.
I had my first Shellac (aka gel, aka no chip) manicure as well as a hair and makeup trial with Elana Darrus in preparation for the engagement photo session. The manicure was nice for a change; I usually hate manicures, since they hurt my cuticles. I went to New Horizons near my house and got them done with Yanna, who went easy on my cuticles but didn't impress me with the polish job (it bugs me when they miss the sides of my nails). I was a little disappointed that the polish didn't stay for "2-3 weeks" as everyone told me, but instead was noticeably chipping off after a week. I guess I'm hard on my nails. It still held up much better than normal nail polish. The makeup looked really nice; I had a good understanding of what I wanted and the makeup artist seemed to get what I was going for almost exactly on the first try. The hair took quite a bit more work. I had told Amanda that I wanted something sleek or polished and showed her some pictures. The first attempt at this low bun came out uneven; the second attempt was way too high and looked like a ponytail. The third attempt looked pretty good, and was quite nice after accessories (intentionally vague) were added.
Thankfully, the rain held off and we were able to take the photos outside as we had planned. We met the new photographer from George Street for the first time (David R.). It felt a little awkward at times (I don't know why but I wasn't expecting to be told to kiss my fiance), but eventually Jim and I warmed up to the situation. It went pretty well, and David had some good ideas for poses. The park we shot at, Kimball Hill, has a lot of good opportunities. Considering there's a lake, a pier, a volleyball court, a gazebo, a picnic area, benches with lamp posts, two bridges, and a nice path, there was a good amount of scenery to incorporate. The photographer stayed a little over his allotted time to make sure we got all of the photos we were hoping to get without even mentioning it, which I thought was great. Weather permitting, we may go back there for our photos on our wedding day. They sent us a sample of the photos yesterday.
The following Saturday, we met with Deacon Larry for the first time. I had known of him in my church for a while, but Jim hadn't. I was glad to hear that Jim liked him. Deacon Larry is a personable and fun guy, which is why I picked him to perform our ceremony. I think he'll do a great job.
Now we're caught up to this past Friday. Jim and I decided to go to Pinstripes to try out some of their event food, since that's where I've wanted to have our rehearsal dinner. It's one of the few things I was able to decide straight away, and now we can move on it, because we have the rehearsal time and date finalized. I mentioned to the event coordinator that we'd be in, and she decided to show us around. On this tour, she told me the minimum would be — which was double what she had told me via email days earlier. It turns out the number she had given me via email was for a Thursday, not a Friday. I was heartbroken, but I kept as quiet as I could. Jim and I convinced her to talk to her manager, and she was able to work the minimum down to split the difference. This fortunately brought Pinstripes back into the realm of possibility, and we'll probably sign the contract with them in the next few days. They also had half priced appetizers from 3-6:30, so we were able to try out four of them without breaking the bank.
Last, we were able to finally see our invitations in person. I picked up the printed versions from Paper Source on Saturday, and they look pretty good. I kind of wish we'd had more white space on them, and that the font was more readable, but there's no changing that now. I still have to do some assembly, the addressing and the stamping. Maybe I'll be able to get these out early, which would be helpful for timely RSVPs.