Our engagement story as told by Karen
It all started one Saturday night in August when Jim went to a bachelor party. He got a little too drunk and called me to pick him up.  He was so sick that, while I was on my way there, he hung up on me to go vomit in the bathroom of the bar. On the car ride to my house, he told me how much he appreciates me coming to get him and how I'm not yelling at him for getting too drunk.  When we got to my house, he stepped outside to make sure he had cleared all of the vomit out of his system. After a few moments, he came back to me and told me more about how he loves me and he only wants to be with me and "I wanted to wait until a better time came but I really feel now is the right time" and "Will you marry me?"  My response was "You're drunk."
He insisted he did mean it, that he had asked my parents' permission and even had a small ring… that he had left at home.  All of this he told me with vomit on his breath.  We went to bed, and the next morning he again insisted he still meant it.  Then, because he wasn't drunk anymore, he asked again. We're still in bed, mind you, and I'd also told him the night before that I'd wanted something more romantic.  I did not give him an answer.
He was pretty upset about that, but he thought it through and we talked a day or two later in more detail about it.  I explained more clearly what I was looking for and what I needed for more reassurance that we had seriously considered marriage, and he started to understand that it wasn't him but his methods that weren't right.  One of the things he had said in that discussion was "I had originally planned to do this on the vacation –" "That would have been a much better idea." "– but it would have been really awkward if you said no."
Anyway, the week of the vacation Jim, my father and I planned to take to Yellowstone National Park came around.  Jim said he wanted to see a part of Yellowstone that had a waterfall.  That's easy; there are dozens of waterfalls in Yellowstone, most of which are exceptionally gorgeous.  Much of the day had been mildly rainy, including our lunch where I fed three adorable and fearless chipmunks, but by the time we stopped to hike to the waterfall, it had cleared up and actually gotten a little warm.

We walked the short half mile to the waterfall, and when we got there, we were alone on a wooden pier.  The waterfall itself was rather tiny, more of a "water trickle" than a waterfall.  Jim started fumbling with his iPhone and got our song, Amazed by Lonestar, to start playing.  Mind you, he had no idea how to download a song to his phone.  In order to get our song to play, he had loaded up the YouTube video the night before and kept his phone on that page all day because there was no reception whatsoever inside the park.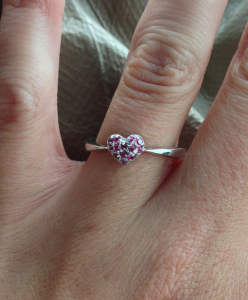 He showed me a ring, an inexpensive one I'd liked on Tanga, which he had meant as a placeholder so that we could pick out a ring together.  Then, he said plainly, "I was wondering if you would marry me."  I gave him a good pause, which caused him to say something along the lines of, "Did I mess this up again?"  Then, I smiled with tears welling up in my eyes and told him I'd marry him.
This would usually be the end of the story, but something seemed off kilter.  The next morning, I woke up realizing that, in all the times Jim proposed to me, he hadn't ever gotten down on one knee.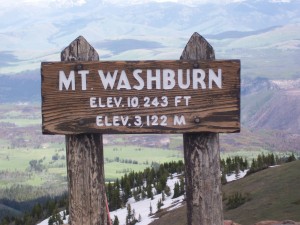 I asked him later that day, while we were in the middle of hiking to the top of a snowy Mt. Washburn, what aversion he had to getting down on one knee.  He then got on a knee on the spot and asked
me to marry him a fourth time.  Upon my acceptance of this proposal, he remarked "Good!  Fourth time's the charm.  I'll at least have a 50% success rate."