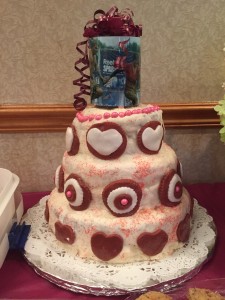 First of all, I want to say thank you to Paulette, my parents and my bridesmaids for putting together a fantastic shower on Sunday. Jim and I are amazed at how wonderfully everything came out, from the cake to the games to the food to the centerpieces to the favors. You can see some glimpses of what it was like through the many photos contributed by Melinda and my dad on WedPics (remember kj1010 is the ID). Thanks to both of you!
I also want to say thank you to the shower attendees. I know that showers can be a bit of a bore sometimes, but I hope you had some laughs and enjoyed yourself at ours. A lot of thought went into trying to keep everybody entertained. Also, the gifts were so generous; it took three separate cars to bring everything back to Jim's place. We are so grateful for everyone's generosity and that so many of you were able to attend and celebrate with us. Thank you notes are in progress, though they cannot really do justice to the amount of thanks that must be given.
Moving forward, as time does, I do have to mention that the wedding attendance RSVPs are due today. Thank you to those of you who have responded already. Also, thanks to the many invitees who responded early; that was very helpful for planning. If you have been invited and not yet responded, please try to do so as soon as possible. Our vendors are nagging us for final counts on things, as they are wont to do.
Thank you again to all of our wedding shower guests! The whole event was such a happy blur.