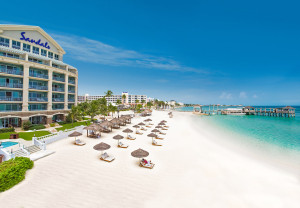 It is finally set. Jim and I will be going to the Sandals Royal Bahamian Resort & Spa in the Bahamas for two weeks as our honeymoon. It's both exciting and staggeringly expensive, and it will be a truly relaxing and luxurious experience. Among other special additions, our club-level all-inclusive package includes a free couples massage, free candlelight dinner, and a bottle of chilled sparkling wine and flower petals on the bed for our first night there.
We're interested in perhaps doing the dolphin swim and some scuba diving, though neither of us have PADI certification. If anybody has thoughts on either, we'd love to hear them.
Also, in case you're wondering, it's apparently pronounced "ba-HAY-me-ann," not unlike "bohemian." I think that's because it sounds more exotic that way. I'm really looking forward to the shower this weekend! Paulette, my parents and my bridesmaids have all put in a lot of work to make it a lot of fun for everybody.