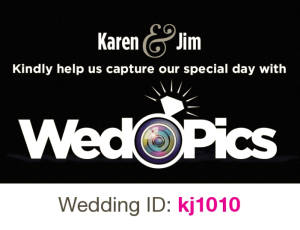 First things first, Jim and I are using WedPics to share and view images from our wedding events, including the shower, rehearsal dinner, honeymoon, and so on. It makes it easy for everyone to contribute photos to a safe place; people need the wedding ID to be allowed to see it, and I can remove anyone who shouldn't be in there.
The best part about this is that it's not only great for uploading photos from a computer, but it's super easy to upload photos from your phone or tablet. I'm hoping we'll get lots of contributors – even if all you post is a picture of the awesome pedicure you got for our day. 🙂 I put all the WedPics info you need on the WedPics page.
Also, in the last couple of weeks, Jim and I met with our DJ and went to a wedding expo. The DJ seems solid, like Ron at Spinnin Discs said ours would be. He seems to care about our wedding and how the music we like will work into it. The wedding expo was at Cooper's Hawk, and it was a bit underwhelming. Though it was nice to have some free wine and sweets, the majority of it no longer applied to us. We did see a booth on honeymoons, but that really was the only thing we needed. In a way, it was like a last hurrah. I will miss getting free stuff like this for being engaged.
Well, here we are at two months out. There's a lot that is done, but still quite a few nagging things that are not. We're actively constructing the Cards box and attempting to plan the honeymoon. The former is coming along nicely, but the latter is causing problems. Jim and I had decided to go to a Jamaica all inclusive resort for our 2-week honeymoon… and then saw that not only would its cost would be double our budget but the availability for 14 consecutive days just isn't there. After quite a bit of sticker shock, we have decided to open up the destination to the Bahamas and get a couple professionals involved. Our wedding planner has not been particularly impressing us lately, but she is supposed to help with things like this. Also, we have spoken with a travel agent or two to try to get some ideas on where to go from here. If I don't have something booked by the end of the week, it's time to put me in a straight jacket.
Today, Jim and I go in for our monthly facials at Rockstar Salon. It'll be our third time in, and so far we're both pretty happy with how it has been going. Jim in particular has gotten quite a few compliments on how glowing and radiant his skin is after this treatment.
Wednesday is our first cake tasting, finally. Paulina, the event coordinator at Wyndham, had a tough time getting one for us because they didn't have a normal bakery contracted for these events. Depending on how we like this bakery, The Baking Institute, we may choose to get a full 200+ person cake from them and disband the groom's cake idea. It would save money, of course, which is a priority after finding out about the honeymoon prices, but I still don't want to end up with a lousy cake.
Mom and I go in for our first dress alterations appointments at Jasmine on Thursday. I'm not exactly sure why I thought it was a good idea to schedule this for the day after the cake tasting, but so be it. Wish me luck.