Last week was a rather long week. Among other wedding-related stresses, we found out from George Street that the photographer Jim and I picked out, Sarah, was fired. It was really disappointing, because she was much, much better than the other two photographers we were shown. With only 4 months left before our wedding, we were concerned about the quality of photographers that were still available.
Thankfully, Jim and I were able to pick out a replacement rather quickly. The new photographer, David, has a nice portfolio and describes himself as a "calm person," which is a big selling point for me. We have an appointment for engagement photos (finally!) with him for Wednesday, so I'll be reporting back with how those go.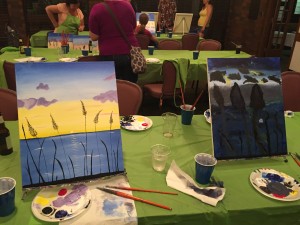 Also, thankfully, Jim and I had seen this wedding-wear-out coming, and planned a couple of nice things for ourselves. First, on Monday, we went to a Paint Nite. I found it to be rather relaxing and fun.  Here are our paintings; I'll let you guess whose is whose.  I have already booked another Paint Nite for us for next month (thank you, Groupon).
Also, we booked a getaway weekend at the Wyndham Garden hotel where we're having our reception. Jim selected the nice jacuzzi suite, so it was quite nice. I really enjoyed the HBO, mini fridge, and comfy pillows and blankets. On Saturday, we had nice enough weather to spend a few hours in the outdoor pool. Jim got pretty burned, though I got away mostly tan with a couple of lightly burned spots. I'm so happy I remembered to pack the sunblock. Saturday night we also went out to Seasons 52 for an awesome dinner. They even had live music, which was rather good.
Over the relaxing two and a half days, I managed to put together a 1,000 piece puzzle with a little help from Jim. Puzzles help me gain perspective; they are a reminder that life is a journey not a destination. The fun part of a puzzle is putting it together, not so much staring at it once it's done.